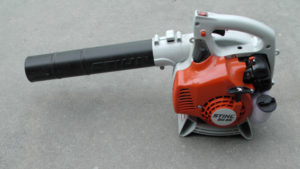 iScaper Rating – 4.5 stars
Let me just say I'm a big fan of Stihl products and the BG 55 leaf blower is no exception. When the Stihl leaf blower I've had for over 10 years gave out, I decided I would replace it with the Stihl BG 55 model. I recently made a YouTube video on how to start a Stihl BG 55  leaf blower, so if you decide to purchase this model and need help starting it, please check out the video.
The BG 55 is competitive in price ($150) to other brands like Toro and Echo and features:
Adjustable Nozzle that's great for stairs.
Easy to change spark plug and air filter.
Translucent and upright fuel tank.
High impact and corrosion resistant housing.
Electronic ignition with the Easy2Start System.
140 mph velocity at the nozzle.
This particular model is recommended for homeowner use, so if you're going to buy a leaf blower for commercial applications I would recommend the BG 66 or BG 86 models.
Stihl has a reputation for dependable, high quality yard equipment and if you're looking for a lightweight, easy to start, powerful leaf blower for use around the home, I highly recommend the Stihl BG 55.