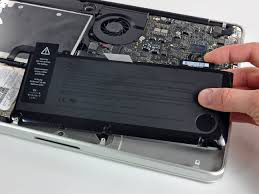 To see how I change the battery on our MacBook Pro computer, please click here.
Our 13" MacBook Pro computer is a Mid 2009 model. If I have Apple or an Apple retailer change the battery it will cost $129 plus tax, and if I do it myself it will cost $55 for the battery and a little time on my part. I decided I would try it myself.
To find the correct battery information I needed to:
Click the Apple icon on my computer then click the About this Mac tab.
A window will pop up that shows the OS X version. I then need to click the More Info… tab.
Another window will pop up that gives a description of the year and model of my MacBook Pro.
I used this information to search for a replacement battery. In my case I went to Amazon and ordered the battery and a $2 tri-wing screwdriver specially designed for Nintendo Wii which came up as a frequently bought together item when I selected the battery. The shipping time on the battery was 2 days and on the screwdriver was 2 weeks plus. My wife was headed to Kenya in just a few days so I ordered the battery and screwdriver thinking I could find the screwdriver locally and use the shipped tri-wing screwdriver as a backup tool in the future.
I never did find a tri-wing screwdriver locally to remove the screws securing the battery to the computer. I did find a bit kit that contained 3 tri wing bits from #1 – #4, but they were all too big. So I'm guessing the tri-wing bit required is a #0 or smaller.
The bit size or screwdriver required to remove the screws in the computer cover to access the battery is a #00 philips type. What I made work on the battery screws was a 1/16" straight blade screwdriver. It fit snug into the screw tops and I removed the screws securing the battery with no problems.
This replacement takes less than 30 minutes, so I saved more than $70 by not taking it to an Apple store.
One note though, I was told by a Simply Mac representative that if I remove the cover on a MacBook Pro it will void the warranty. So if your computer is under warranty and the battery goes bad take it to Apple or an Apple retailer. Our computer is out of warranty so that didn't factor into the decision.