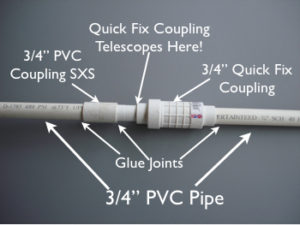 Click on the image on the left to see an enlarged view of the image.
Lately I have been receiving a lot of questions concerning how to add a sprinkler head to an existing sprinkler zone. The easiest way to accomplish this is to find where an existing sprinkler line is located and cut in a new head. This means you cut the sprinkler pipe leaving a gap that the new sprinkler head will occupy. In the example above, instead of installing a PVC coupling, you would install a PVC threaded tee that will provide a connection to a new sprinkler head. The quick fix coupling identified in the image will telescope out to occupy the gap that you cut out in the first place. Be careful that the gap you cut in the sprinkler line isn't too wide for the telescoping quick fix coupling. Do some measuring before making the cuts to prevent problems later. After this connection is made to the sprinkler line, the next step is to add a new sprinkler head.
The image on the left shows how I prefer to connect sprinkler heads to the piping in a sprinkler system. The connection to the head and sprinkler tee is done with funny pipe barb elbows, and funny pipe sprinkler head tubing is used to connect the barb elbows.
The reason I like this type of installation is that the sprinkler head can be positioned or located anywhere you want, and this connection is made without clamps or glue. If you have ever used riser nipples you know how restricting they can be when it comes to positioning sprinkler heads. With funny pipe and barb elbows raising or lowering a sprinkler head is not a problem, or even moving the head 10′ from the sprinkler line is not a problem. You can position a sprinkler head exactly where you want it. Using this type of installation is also a big time saver.
[widgets_on_pages id=" Subscribe to iScaper's Blog"]