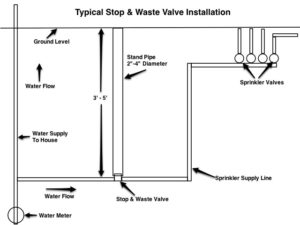 Click on the image to see an enlarged view.
Read the post on my favorite stop & waste valve.
I thought it would be helpful to see a drawing of a typical stop & waste valve installation. In the area in which I live, the Intermountain West, the drawing you see is typical of how sprinkler systems are installed. There is usually a tee installed into the water line running to the house, and a stop & waste valve is installed to turn on and off the sprinkler system. This valve serves two purposes. In the spring the valve is turned on to activate the sprinkler system, and in the fall the valve is turned off to shut down the sprinkler system. In the fall when shut off, the stop & waste valve also drains the water out of the piping from the sprinklers valves. The stop & waste valve has a drain port in the side of the valve so that when the valve is shut off it drains the water out of the supply sprinkler lines to this port. This keeps sprinkler lines from freezing. Usually the valve is buried 3′ – 5′ deep depending on the depth of the water line running to the house. There is also a stand pipe placed over the valve running to the surface so that it can be turned on and off with a meter key. This pipe is usually 2″ – 4″ in diameter.
The second useful purpose of the valve allows the sprinkler system to be shut down for repairs and maintenance without affecting the water supply to the house. So remember, be sure and shut down your sprinkler system in the fall to prevent freezing to your sprinkler system.
[widgets_on_pages id=" Subscribe to iScaper's Blog"]